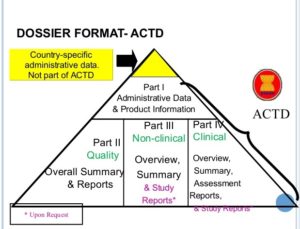 The ASEAN (Association of Southeastern Asian Nations) have observed this and are now drafting the ASEAN CTD, a standard derived from the CTD. In place of the 5 modules, the ACTD organized the submission into 4 parts. This is done because ASEAN members usually only receive reference applications — applications to put a drug on the local market that has already been approved elsewhere. As a result, the need for detailed documentation is lessened — most study reports are not required to be submitted.
Module 1 in the CTD (the regional and registration information) is still present as Part I in the ACTD. ICH M2 is dropped and the summaries are absorbed into the subsequence parts. Quality information (ICH M3) is Part II of the ACTD, Nonclinical (ICH M4) is Part III, and Clinical (ICH M5) is Part IV.
Common Technical Document for ASEAN countries contains of four parts :-
Part I : Administrative information
Part II : Quality
Part III : Nonclinical Study Reports
Part IV : Clinical Study Reports
Please check out our Blog
please check out our Post about ACTD dossier.